Feeding transformation.
In February 2019, Feed Info, a leading global news platform in the animal feed sector, chose Cogworks to design and build a modern, future-ready solution to serve its vast user base. 
To strengthen their position as the 'go-to' place for real-time insights, we nourished FeedInfos' website with Umbraco, Azure and intelligent APIs so that users can create or consume news as it unfolds.
Using our design, development and content migration services, we transformed their legacy subscription-based website into a valuable business tool for FeedInfo's marketers and professionals in the animal nutrition industry.
Breaking barriers.

FeedInfo faced a range of limitations with their bespoke CMS. It relied on legacy databases that elongated the content workflow and lacked tailored security options.
With Umbraco as our foundation, we strengthened user experience everywhere, for every user, leveraging a slick, accessible, magazine-based design with streamlined workflows, sophisticated searches and security measures.
Building insightful experiences.

To migrate and modernise FeedInfo's collection of 170,000 articles, we developed custom scripts that transformed outdated styling and HTML formats into sleek, readable insights. Of course, great designs need a powerful search so they are found. To quickly serve subscribed users the scoop, we leveraged Azure to ensure every article is indexed, logically tagged and searchable! 
We empowered FeedInfo's content editors with features that streamline the entire publishing process, starting with an automated newsletter that allows editors to collect, curate, and deliver personalised content to different segments of paid subscribers with a simple checkbox!
To save time for marketers, we developed an auto-publishing feature that works in harmony with Feedinfo's crucial news agencies, like Reuters and DewJones; our custom automation gives editors control to accurately publish the necessary volume of daily articles, reducing their long publishing process to a click of a button! Get the full story on our content automation features for FeedInfo.
Newsworthy integrations.
FeedInfo relies on plenty of third-party applications and platforms to deliver its message; we built two APIs as seamless extensions of their existing technical structure:
The automated membership & login API helps FeedInfo get a 360 view of their customer as it's synchronised with their CRM, giving FeedInfo valuable insights that allow them to offer tailored content recommendations, promotions and services to different segments of users.
Our multi-device detection API covers strengthening security for FeedInfo by preventing users from sharing logins and providing a role-based authentication model to allow various levels of access based on different subscriptions.
Unfolding developments 2022+.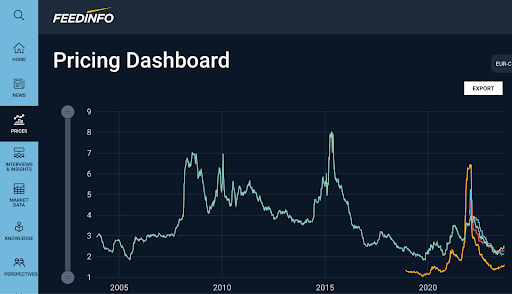 Source: View from the pricing dashboard, Feed Info.
Since its launch, we have continued working with FeedInfo, adding powerful features that harness Data Visualisation so that users can view and interrogate the vast range of crop data provided by Feedinfo in an easy-to-consume visual interface.
Talk to us.
We're big fans of turning complex data into stuff that works (and looks good) on Umbraco!