The importance of content automation.
Content automation is a necessary part of the web editing process for companies with lots of data, customer personas and ROI objectives. 

Email marketing, though one of the oldest methods, is still the most effective. A recent report from HubSpot shows us that in 2021, '77% of marketers reported seeing more engagement'.  
The report goes on to say that marketers this year are sending fewer weekly emails than last year but prioritising segmentation, personalisation, and automation.

So, if you have a marketing department (or you are the department ;)), you're likely to have come across Mailchimp, Constant Contact and Salesforce as leading marketing tools for email campaigns. But did you know that you can extend the functionalities of leading applications like these from your CMS? 
With Umbraco (and a bit of technical know-how), you can easily integrate your favourite third-party tools, tailoring your content curation, publishing, and automation process to your specific needs. 

We believe automation has the power to solve so many issues today. Yet, automation doesn't have to result in impersonal, generic and non-authentic experiences.
Creating effective content automations with Umbraco.
We recently migrated FeedInfo from an outdated custom CMS solution to Umbraco v8 by completing a full rebuild, redesign and content migration. During the project, our development team spotted the need for two custom Umbraco automations.
1. The automated newsletter. 
Part of FeedInfo's commitment to their paid subscribers is to provide regular marketing communications such as daily emails and marketing campaigns that keep users informed about their chosen segments of the animal feed market. 
The service FeedInfo already used for email marketing worked great, but manually tailoring each publication to the specific requirements proved time-consuming for editors. 
During their site migration to Umbraco, we recognised the potential of content automation within their daily newsletters. Our team implemented a full curation process that enables content creators to publish articles within newsletters using a simple tickbox, plus the ability to intuitively edit the layout of publications in the Umbraco backoffice. 
How does this automation work? Simply speaking, each newly published article ticked "include in headlines" is immediately added to the list of articles exposed in the XML format on the publicly available endpoint.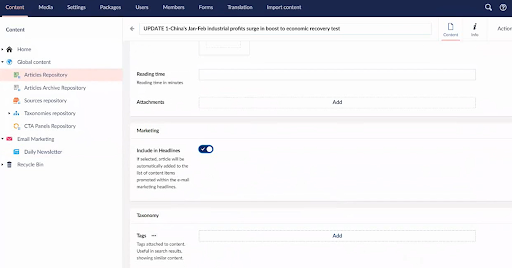 An external tool fetches the exposed list of articles and sends it to the newsletter.  
This custom Umbraco automation allows FeedInfo to offer more personalised experiences to their paid subscribers as editors can collect, curate and deliver content to the mailboxes of the right people fast!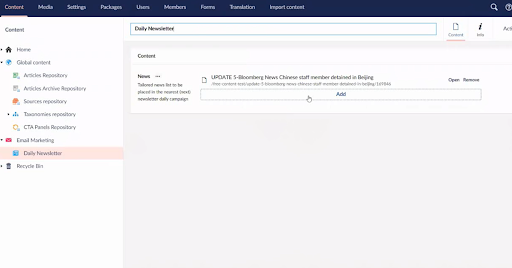 2. Auto-publishing feature. 
The auto-publishing feature was probably one of FeedInfo's favourites. FeedInfo had a similar feature on their existing site, but it lacked a friendly user interface and needed alignment with today's coding standards!
Using the full flexibility of Umbraco, we reimagined their publishing process by introducing a custom auto-publishing feature that connects with their existing API data feeds to enrich the publication process. The custom implementation allows them to have a lot of control over the 3rd party content, and it can concisely publish a large number of articles to their site daily. 
How? The custom Umbraco script crawls external data feeds from agencies like Reuters and DewJones and fetches new, tailored and pre-filtered content from their existing APIs. The content is then automatically published to a predefined page on the frontend. 
The configuration of the auto-publishing feature allows editors to easily create and amend rules that apply to different content types by specifying the keywords that they should or should not include in the list of published articles. 

The Umbraco view also allows editors to map the articles to the exact website categories to be automatically published. 
Final thoughts.
Thanks to Umbaco's editor-friendly user interface and the ability to integrate with external services and data providers, both the auto-publishing and the newsletter feature mentioned above work seamlessly with FeedInfo's setup.
(You can read more about full strategy, design and build in our full study coming soon). 
Perhaps an element of your content publishing process or workflow could do with a polish? If you have a necessary but time-consuming process, it could be time for a bit of automation. Feel free to get in touch for a chat!