Developers days are over! If you're in the dev business, you may as well hang up your keyboard, pack your desk and go home. Low-code and no-code have entered the building. 
Okay, no need to go just yet. 
As a fellow developer turned CTO, I often hear the question, "will low-code/no-code development replace developers?". Well, I'll illustrate my answer with a famous quote (sourced from Twitter):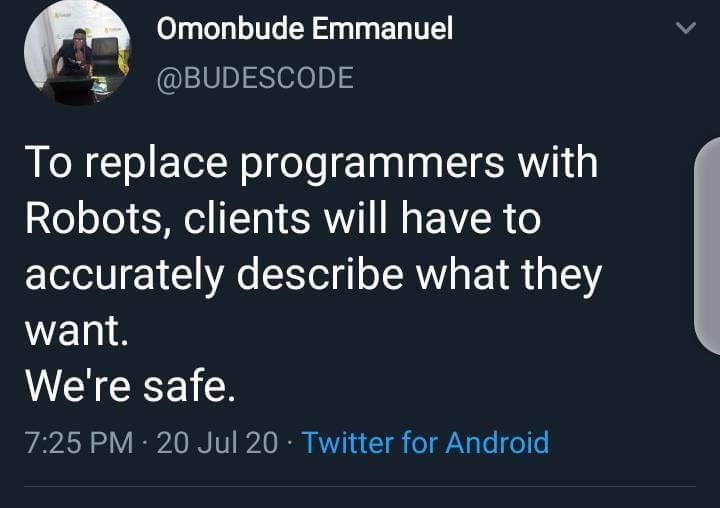 We're safe! Phew. So why is no-code and low-code development so popular?
The rise of the no-code and low-code movement.
Since the 1950s, when Hamilton supposedly invented the software engineering role, nothing has really changed in the market. We have been screaming for more developers (yep, quite literally screaming "developers, developers, developers" for some time... think back to Steve Ballmer's speech at the Windows 2000 event). 


To keep up with the demands of digital transformation efforts across a global scale, companies need to educate more developers. Many people turn themselves into coders using online resources, three-to-six-month coding boot camps and other home study tools, but we still need more devs.
So, it's easy to see why businesses are attracted to no-code low-code platforms. Zdnet.com has recently reported that widespread remote working in 2020 has accelerated interest around the low and no-code movement. A survey goes on to say that investment in low and no-code technology has nearly tripled since COVID began...and that's not surprising considering KMPG has found that 100% of enterprises who use low and no-code have seen Return Of Investment (ROI)!
It seems there is now a growth of interest in the low-code and no-code concept from business professionals and citizen developers thanks to the speedy evolution of digital trends and the need for more developers. 
Low-code and no-code is nothing new.
Yep, that's right; the platforms are nothing new. There are hundreds of tools already out there to help non-technical people build apps with no code and manage their business solutions with pretty much no need for development skills. "Low-code/no-code" is often written as one giant internet buzzword, but they are two different things.

What is low-code? 
Low-code platforms intentionally make it easy for people to design, build and launch various types of applications quickly (without having to worry about the nuances of underlying operating systems or scalability requirements). 
LCDP (Low Code Development Platforms) exist on extended cloud-based Platform-as-a-service environments; they use visual programming interfaces so users can create on-brand solutions quicker than could be achieved with traditional software development. 

You may have been using LCDP or LCDP-inspired tools already. I use Leadpages to send out the monthly Cogworks newsletter to our subscribers. It's great. I don't have to write a single line of code to build pages, subscribe contacts to the newsletter and send it out in a PDF file!  


What are no-code development platforms?
Website builders such as WIX and Leadpages can be described as no-code tools as they allow the publishing of fully functional websites with the ability to set up a variety of integrations and automations without any technical skills at all. Salesforce Lightning and the Salesforce App Cloud Platform allows you to build and deploy mobile applications instantly!
No-code platforms aren't just for creating entire websites or mobile applications. SaaS platforms and other providers offer intuitive solutions that follow the LCDP concept, like App connectors such as Zapier, IFTTT and Pipedream, all extremely helpful when teams need to communicate between two or more tools.  
Old-timer, Microsoft, has also worked with LCDP platforms for a long time. You might have heard about Microsoft Flow, Power Apps or Logic Apps. These tools seamlessly integrate, enabling us to construct amazing workflows for a range of use-cases. 
Though all the above no-code tools produce different outcomes, they are all designed to edge companies closer to their business goals with no technical knowledge required. 
Should developers embrace low-code and no-code solutions?

It doesn't have to be no-code VS developers. If you need a mobile app, internal PoC, MVP or a business-critical solution distributed across various platforms and tools. Now is a great time to get started with low-code and no-code solutions at your organisation. 
 
Reasons to love low and no-code solutions: 
LCDPs are quick and easy to integrate with 3rd party systems.  PowerApps has more than 450 connectors available and the ability to build your own for any apps based in your ecosystem. It gives you almost limitless possibilities to combine everything you need to deliver business value.
They're perfect for distributed environments. Most businesses have a set of well-established tools and platforms already. LCDP enables you to stay working with your favourite known tools and to connect them with others.
Fast development and delivery! Developers don't need to reinvent the wheel and build everything from scratch all the time. Vendors and platforms themselves are responsible for most of the critical issues and problems with connectors. Plus, big businesses are already running critical systems on top of that, so issues and problems are rare. Help from Vendors lets Developers maintain the focus on processes and solutions rather than technical issues.
They're Proof of Concept (PoC) and MVPs machines. Marketing teams, company teams and even CEOs can dive into the platform and build an app with a few clicks to prove a business process or explain a big picture. Of course, there is speculation that they will start reducing the need for developers and code, but it's not a serious cause for concern (head to the Tweet at the start of this post).
It's not all about coding. I think I can speak for many developers when I say we'd love to spend more time on solving client's problems and rather than fighting with our IDEs, tools, frameworks, platform issues and bugs that we can create ourselves. 
Low-code and no-code solutions create space for developers to take advantage of a more problem-solving role, with the opportunity to focus on things like architecture design or solving real-world business challenges. 
Out-of-the-box administration, analytics and monitoring. For example, PowerBI introduces savings in time and budgets, and lets teams focus on real value served by the solution.
Security. Vendors are placing a larger emphasis on the security of their products! Long years of cloud computing adoption and networking challenges solved and delivered with Azure and other providers are helping low-code services and distributed architectures daily. It makes them more secure than ever and again and lets developers focus on value rather than issues that we might introduce along the way.
So, what do you think, will you or your organisation be joining the movement? Please let us know in the comments below.
If you're still in the mood for more low-code no-code info, check out how you can build low-code applications on Microsoft Azure. Plus, some resources I'd highly recommend:
https://www.wearecogworks.com/blog/
https://azure.microsoft.com/en-us/solutions/low-code-application-development/ 
https://powerapps.microsoft.com/en-us/
https://michalguzowski.pl/what-are-low-code-development-platforms/
https://michalguzowski.pl/business-benefits-from-using-power-platform/