It's easy for us to shine a light on the highs, the successful projects and the wins. It's much harder to tolerate when things don't go to plan. Mistakes can happen, leaving us disappointed in our delivery,  performance and - ultimately, ourselves! Focusing on this disappointment and honing in might feel like we are a glutton for punishment, but why do we do it? Nobody said it better than Mr Ford, which is exactly why Agile retrospectives are a must for us.
'The only real mistake is the one from which we learn nothing. Henry Ford

What is a client retrospective in Agile?
'81% of surveyed businesses use retrospectives regularly in their projects' (Monday.com). Agile retrospective "itineraries" vary from company to company, but in essence, they always include reflective questions for teams, such as:
What went well?
What could be improved?
What are we going to do about it?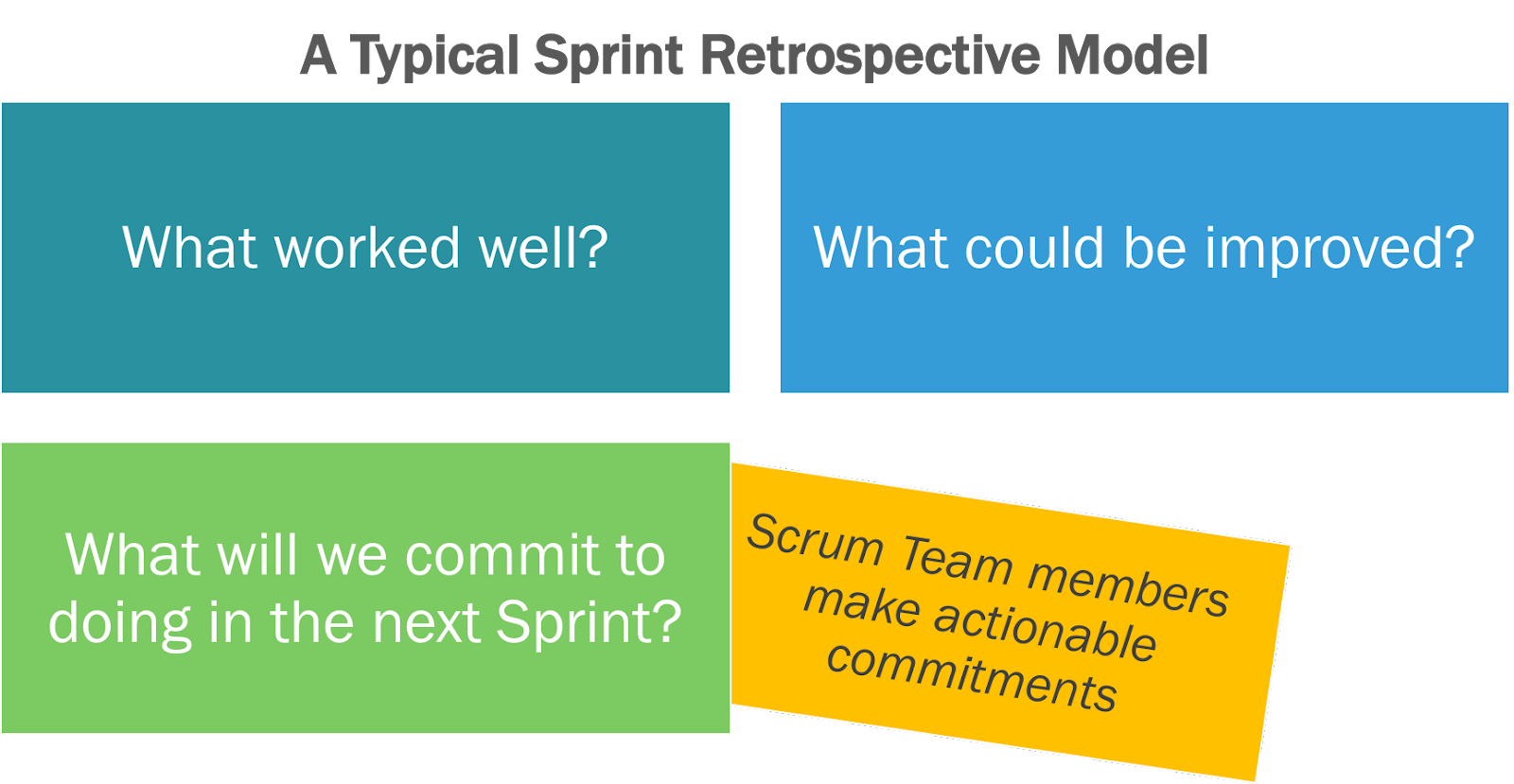 Source: https://www.scrum.org
Our company retrospectives, both client and internal, are always underpinned by the same agile principles as seen above, but we like to call it:

- Where we've been
- Where we are 
- Where we're going

(It just sounds a little friendlier.)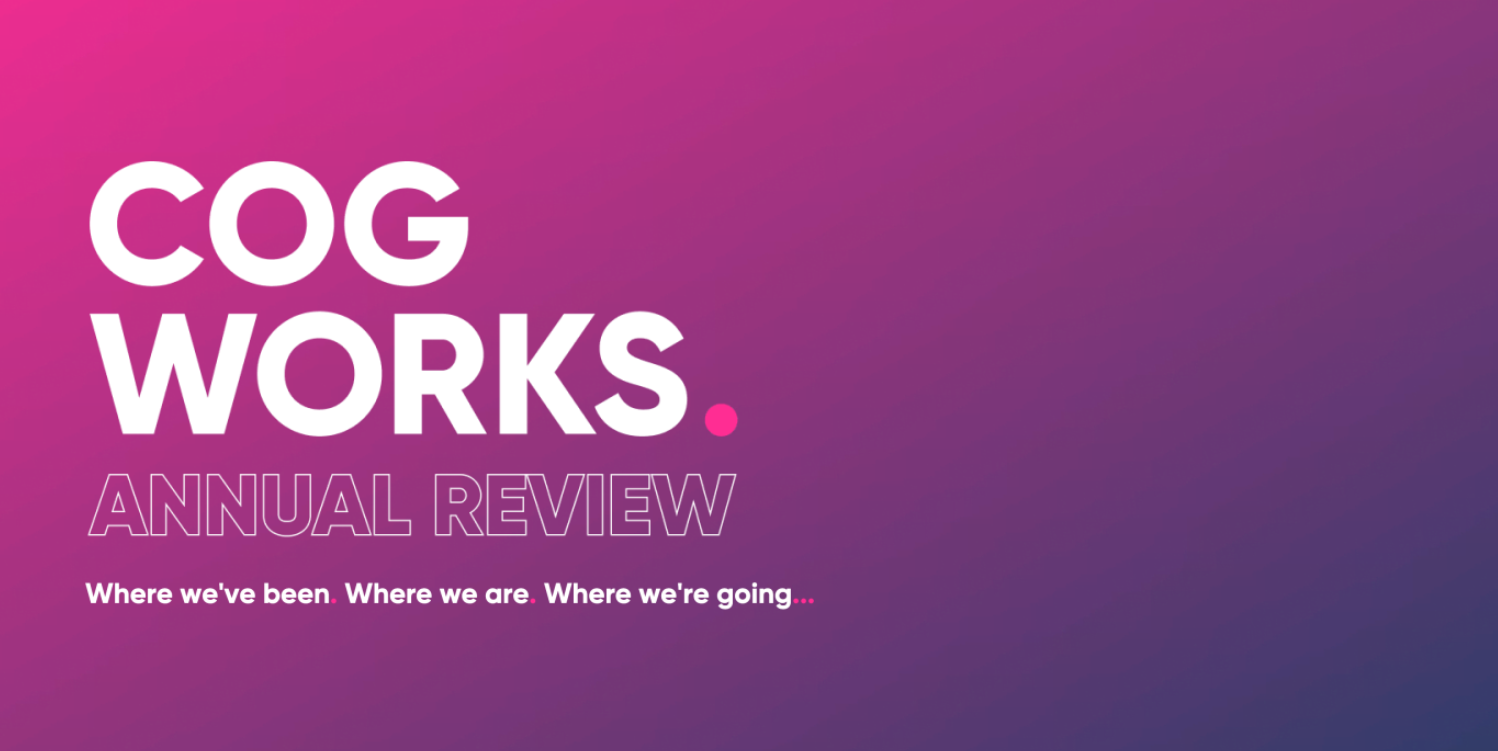 The retrospective (sometimes known as the "reflection workshop" or "sprint retrospective") is a fundamental part of the Agile software development process. These sessions are a series of constant communication and regular feedback to improve the overall quality of the final product and, just as importantly, relationships. 
We have condensed over a decade of agile and scrum experience into our proven Cogworks Agile workflow to strengthen relationships with our team and clients so we can produce better digital solutions together.
What does a client retrospective involve?
To run a client retrospective effectively, it must involve all who have worked on the project; for us, this includes, at a minimum, the project manager, account manager, tech Lead and QA Lead. For this to be a success, there are a few things we recommend to do.

We plan.

We must provide participants with adequate notice to attend retrospectives; this also gives them time to prepare the facts about the project in question. It's a good idea to provide a minimum of 3 days notice for a retrospective (everyone will appreciate the time to prepare).

We facilitate.

Retrospectives are sometimes dreaded, so it is super important that your facilitator can reassure all involved that where they are is an entirely safe space, where they can be truthful with no judgement, nor will there be any personal consequences to their honesty. The facilitator's role is to ensure all voices are heard. 
Tip!  Why not spend the first few minutes of your meeting breaking the ice? A few conversational moments could help relax all involved. 
We elaborate. 

During client retrospectives, we uncover details that we were not necessarily aware of. In fact, what we initially perceived to be the issue is sometimes not the case, and there are often surrounding factors and reasons that pinpoints the blocker. For example, if we fall in testing, some may conclude we have quality issues. It's only when we dig a little deeper that we find out we did not have  'time' to test effectively! 
In your retro, it's good to ensure that everyone shares their point of view. We do this through Miro - a fantastic collaborative tool that allows individuals to work together virtually and add their own comments live. (Below is a screenshot example of our board)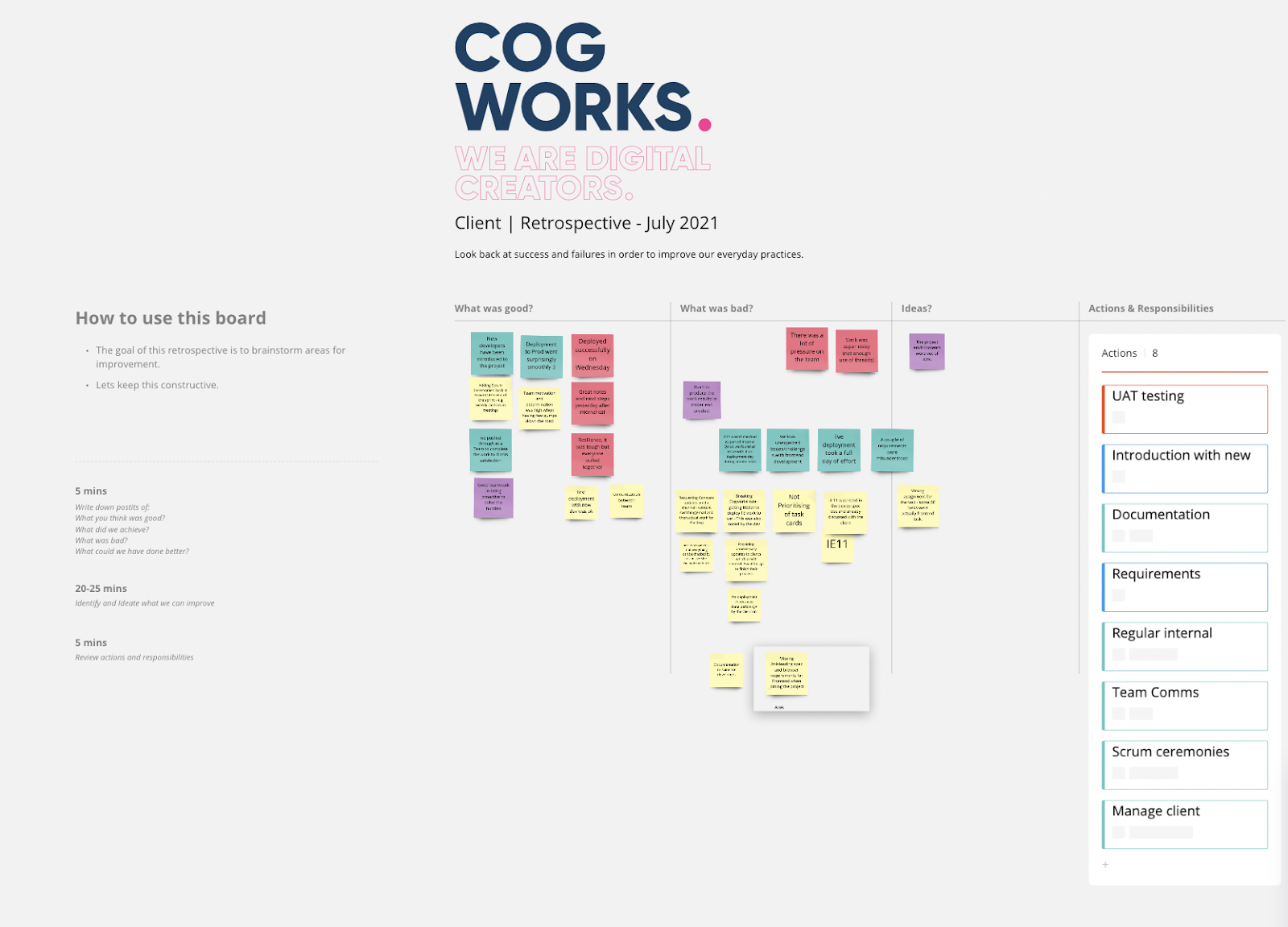 We action.

After identifying the good and the bad, the next stage is for everyone involved to create actionable points that will ensure we don't fall into the same pitfalls next time. When you set your objectives, make sure they're SMART (Specific, Measurable, Realistic, Timely) for full effectiveness. 
Why do client retrospectives matter? 
All businesses need to partake in client retrospectives. If you're still on the fence, here are my top 3 reasons for getting involved in a retro, whether you're a client or an agency: 
1) Identify > Improve > Evolve
 
By identifying the issues and honing in on our weaknesses, we can fortify our processes and evolve. This undoubtedly makes us stronger and ready for the next challenge
.
2) Transparency & trust.

A lot of businesses will not hold retros externally with their clients as there is a fear that focussing on the bad could be damaging/a difficult pill to swallow. At Cogworks, we pride ourselves on being transparent, and our Agile retrospectives are no different. By being totally honest with clients, we develop a genuine partnership, and they can trust what we say because - well, it's the truth. 

3) Let it go, let it go.

When something doesn't go quite to plan, it can produce a lot of negativity within individuals towards the project, the client, and sometimes even each other. One of the true benefits of client retros is that it allows them to process information, learn and put their best foot forward.  

Our job is to ensure that we deliver work of the highest standards in line with clients' expectations. When we aren't convinced we have done that, we hold ourselves accountable in our client retros.
Cultivating a culture of accountability inspires us to be responsible and, ultimately, to do better next time.

'Accountability breeds responsibility' Stephen R. Covery