We're back from the Umbraco UK Partner Summit, an entire afternoon discovering what's now and next for Europe's No1 CMS alongside other leading UK partners! Part of our partnership benefits includes Summit events, where you get to listen and contribute directly with Umbraco HQ sales, marketing and technical leaders.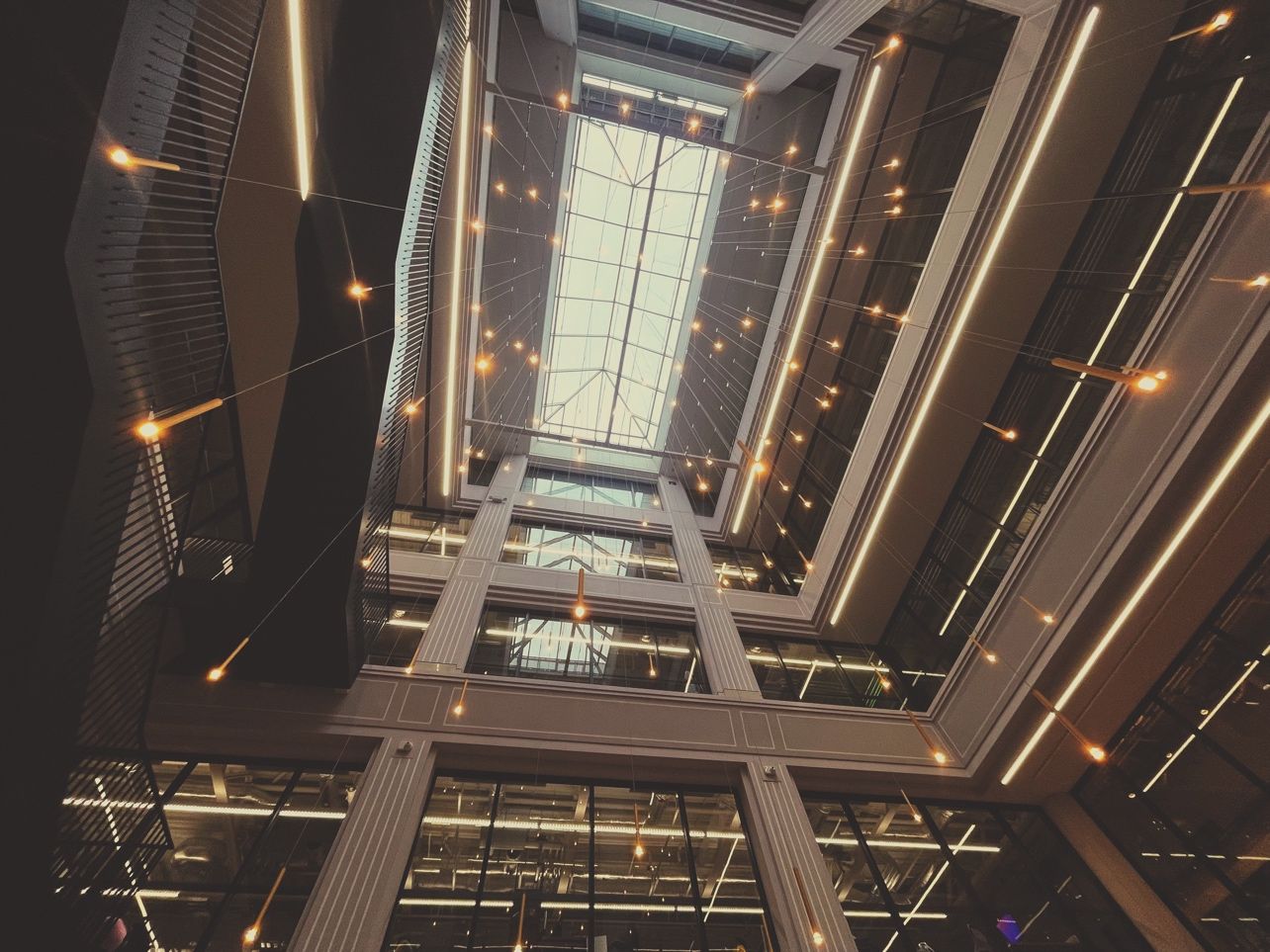 Caption: The Hugo and Cat building, London (it's like the corporate version of Harry Potter's Grand Hall).
Not everyone has 6 hours to get the latest. Here's a quick summary of Umbraco's news; please reach out if you'd like to discuss any of the below.
1. Umbraco news.
There's a new partner tier system; more about what that means soon.
2. Umbraco is the No1 CMS in G2 and People's Choice!

G2 is where you go for software (which explains why 100% of the Fortune 500 businesses use G2).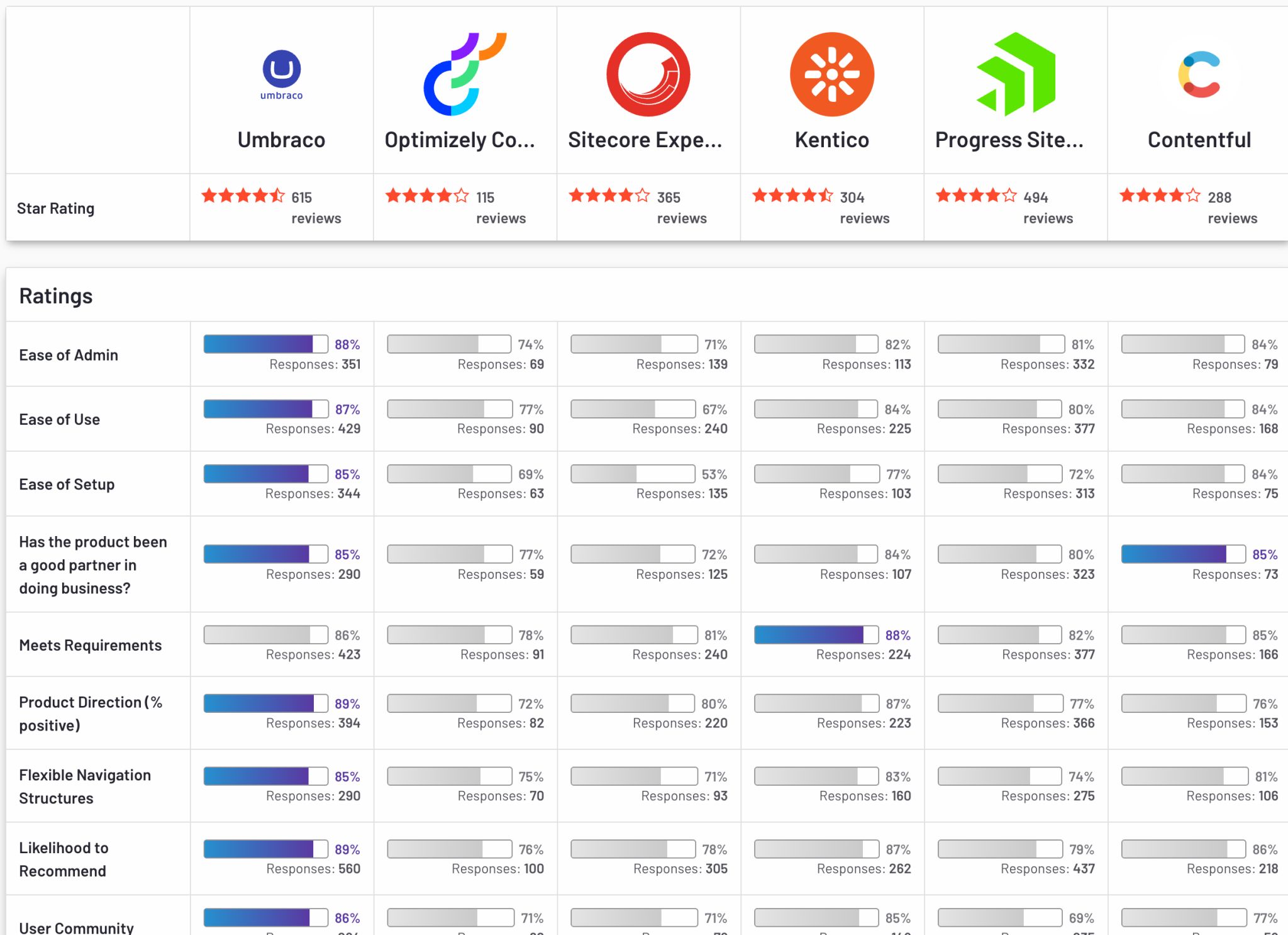 Source: https://www.g2.com

Umbraco is commanding the G2 space compared to 5 other major CMS technologies, such as Optimizely, Sitecore, Kentico, Progress Site and Contentful. Just look at the graph comparison; Umbraco is leading in:

Ease of admin

Ease of use

Ease of setup

Quickest go-live time

Fastest time to ROI
Umbraco is also leading the G2 user reviews as a leader in Europe for Enterprise and a leader in the UK. You can view the full G2 CMS comparison report or make custom reports to compare Umbraco with another CMS.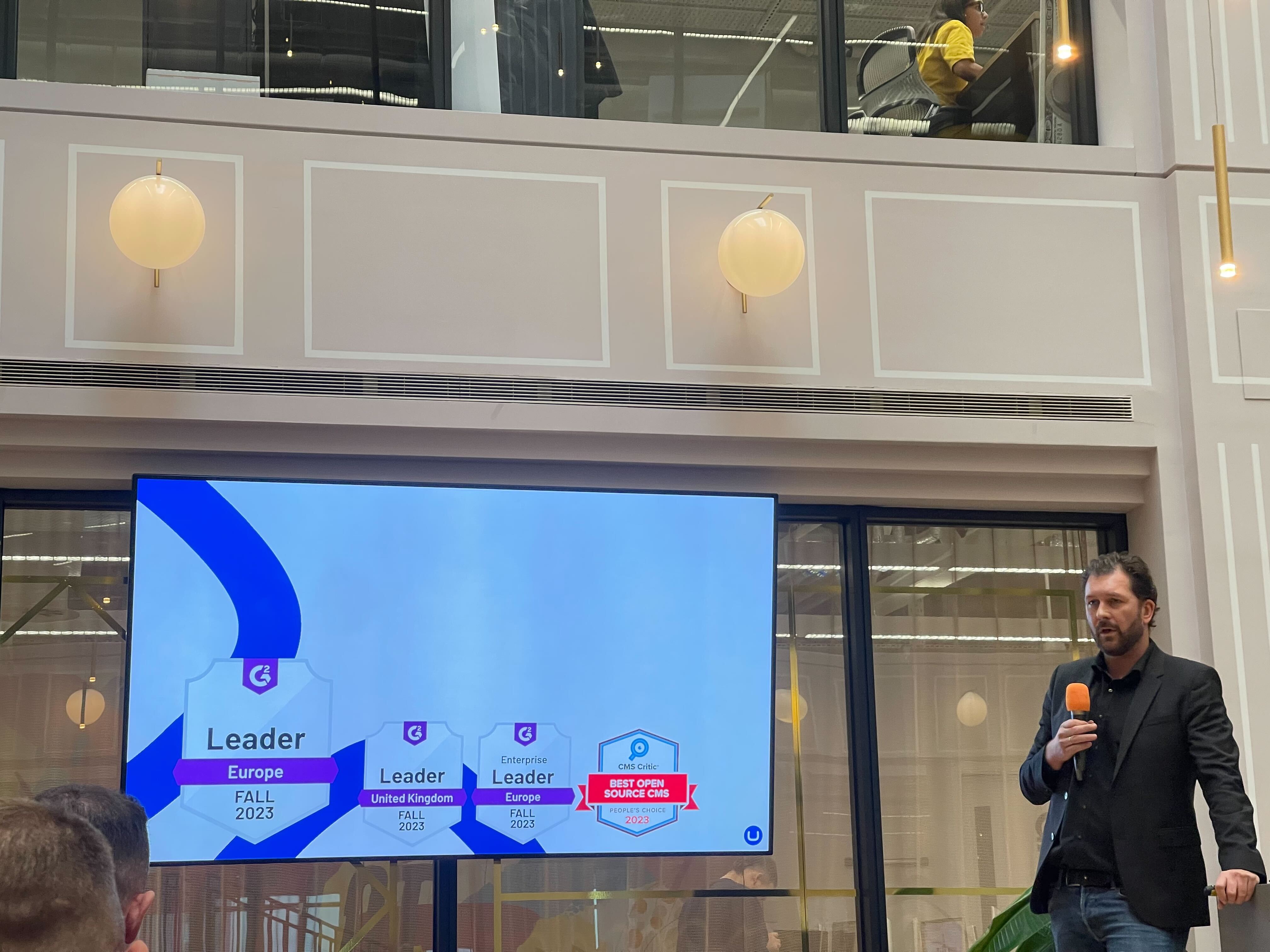 Caption: Umbraco's Mike Pedersen speaking about the current state of the Umbraco CMS.
Plus, it's been awarded the Best Open Source CMS of 2023 by People's Choice, and the good news is Umbraco is on its way to even more improvements in the next year.
3. The future is feature-full.
This year and next, among a lot more features, we'll see:
Deeper headless capabilities from Umbraco; the new backoffice is set to offer 240 different API points.

Umbraco Commerce and Umbraco forms will be a smooth continuation of headless features.

New and improved block features in Umbraco

Cleaner, component-based development with a strong focus on best practice development
4. Umbraco Sustainable Systems.
'Digital solutions can reduce global emissions by up to 20%.' With that knowledge, we have the power in our digital organisations to make change, and Umbraco is doing just that.
Following the release of Umbraco's first-ever impact report and the creation of an entire sustainability team, things have been in full swing to address the critical questions and challenges around creating a more sustainable product for the Umbraco community and broader businesses.
This year, they will continue their quest toward a carbon-neutral cloud and build sustainable best practices in the website process.
5. Community engagement is high.
This year, the Hacktoberfest has seen an increase in pull requests, plus 25% of contributors were first-time contributors. What does this mean? It means the Umbraco community is passionate, enthusiastic and friendly - which explains why the CMS continuously topped the review charts everywhere.
Our Senior .Net Developer, Adrian Ochman, was among the thousands of contributors to this year's event, who not only helped to solve common open source problems but had a tree planted in his name, too.
6. Umbraco Marketplace is booming.
New exciting additions to Umbraco Marketplace mean there are now 300+ available free or paid integrations to get your hands on related to headless, marketing, developer tools, search, etc.
Although the categories range, the unified experience from product to product stays the same. Umbraco only add packages that extend the functionality of your Umbraco CMS while enhancing the look and feel of the backoffice and frontend experience!
Umbraco and its technology partners work hard to make everything a seamless experience, so you can't tell when a product starts and Umbraco begins.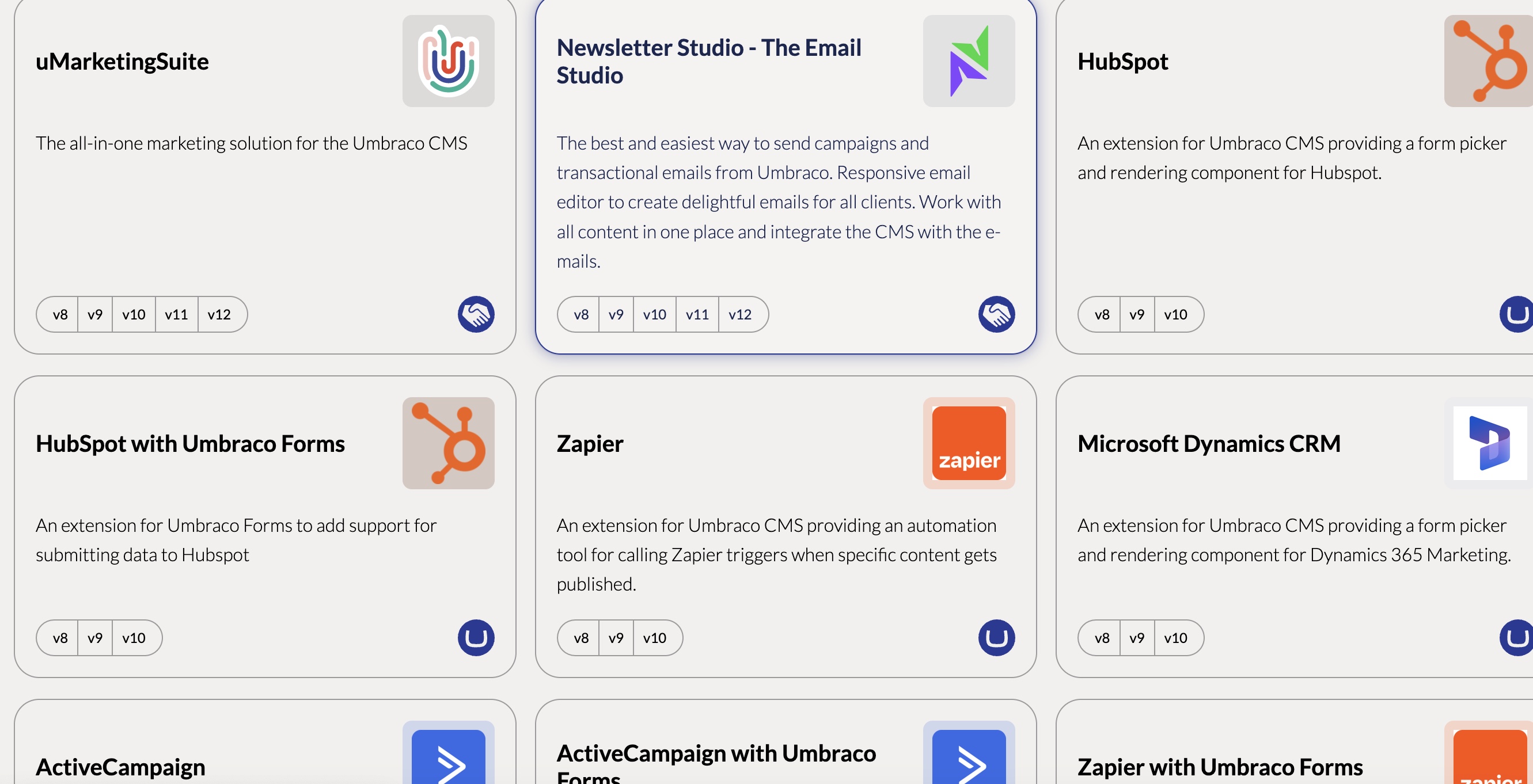 Source: Umbraco.com, uMarketingSuite
Integrations like uMarketingSuite provide deep insights for businesses on how users see, think, do and care about their brand. Unlike universal analytics, uMarketingSuite is a platform that lets you build your site in response to user behaviour, harnessing A/B testing, personalisation and analytics in a single interface to develop user personas and segments directly around your website data.
Our clients are interested in the possibilities that uMarketingSuite offers their brand; the integration eliminates making guesses about user behaviour so they can focus on driving leads in specific areas, making better development and design decisions and smooth user journeys.
7. Umbraco Commerce News.
Umbraco Commerce is everything we know and love about TeaCommerce, Vendr, and then some! It's a fully-fledged, cloud-ready ecommerce platform with a ton of extensive features out of the box, including a range of payment providers like Klarna and Stripe, that respond to the way the modern user likes to shop.
'Built and maintained by Umbraco, this is the most seamless ecommerce solution for Umbraco.' - Umbraco.com
At this year's Partner Summit, Umbraco shared with us some of Umbraco Commerce's benefits, like:

Extensive developer APIs

Easy deployments

Composable setup

(and tons more)
Key takeaway. Umbraco isn't the answer to everything.
Controversial?
Not really.
Our key takeaway from the summit, and also the Umbraco UK Festival the following day, reinforced our idea that "Umbraco isn't the answer to everything."
While it might not be your CRM, ERPs, CX platforms, etc, Umbraco is the CMS that allows your organisation to choose the best tools for the job so that you have a stack of best-in-breed solutions to drive your business forward.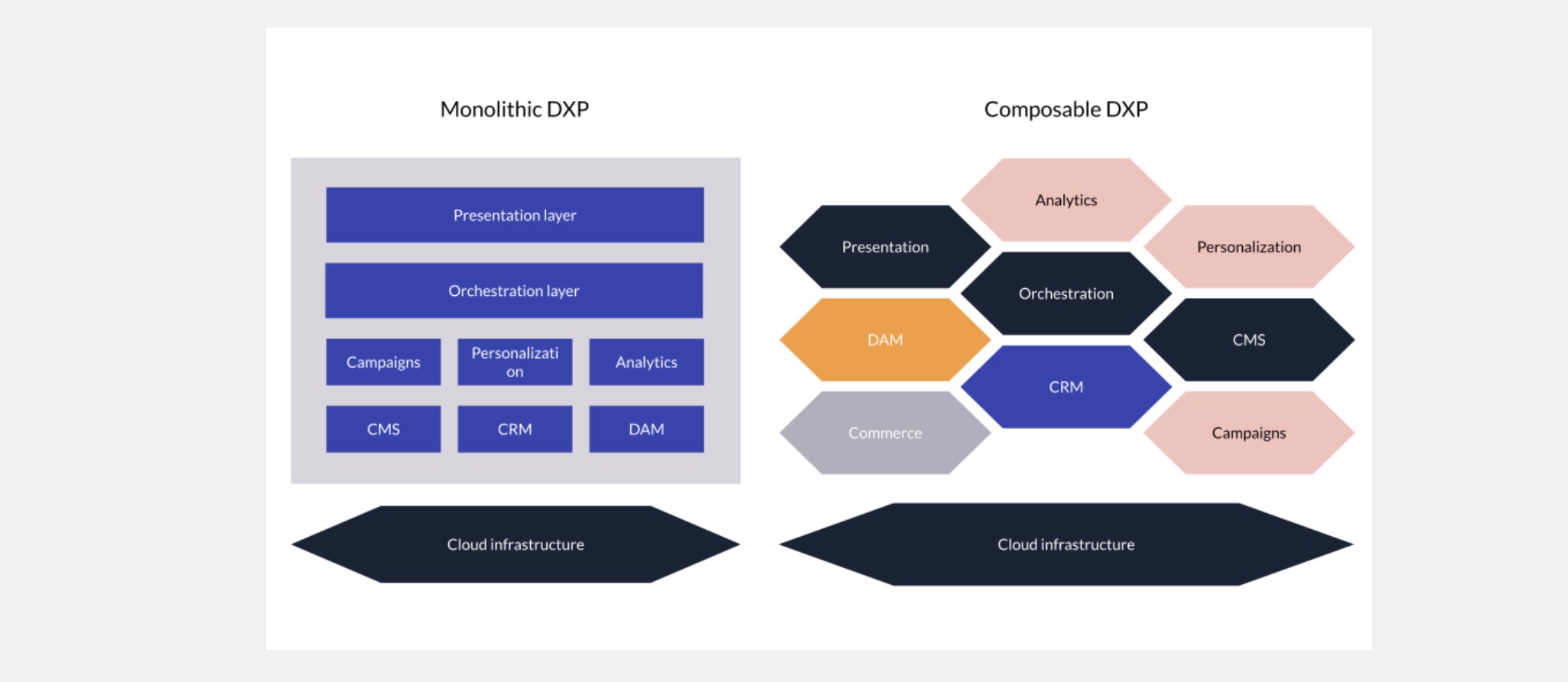 Source: Example of Composable DXP from Umbraco.com
What Umbraco and its partners want for brands is full composability and technological control of solutions, ensuring that every element is instrumental. No one should have to feel obligated to keep a digital product because "some of it works okay".
Nope, in this new era of composability, we're shaving off the stuff we don't need to have lighter, safer, faster and more intuitive solutions, and Umbraco can be a part of that.
This year and next, expect more on how to make Umbraco a truly composable solution that helps to streamline enterprise workflows.
What can Umbraco do for you? Get in touch; we're here to help and chat anytime!
Cogworks