You've got a great business idea and have decided you need a website...what's next? Maybe you need to consider the size of your site. Does your site need to integrate e-commerce functionalities? As a Content Editor working with Umbraco for the past 9 months, I would heartily recommend Umbraco, a fully-featured open source CMS with a lot of flexibility.
What are the perks?
From a content editing perspective, I found it to have a really nice user experience and was able to quickly grasp the workings of the CMS, as it is highly intuitive and very easy-to-use. In this blog, I will highlight some of my favourite content editor tools in Umbraco.
Umbraco is a good choice for a website or an application, with a rich and highly complex structure. Managing an intricate information architecture is more difficult in Wordpress, for example, since Wordpress started as a blogging platform and doesn't offer as much flexibility as Umbraco.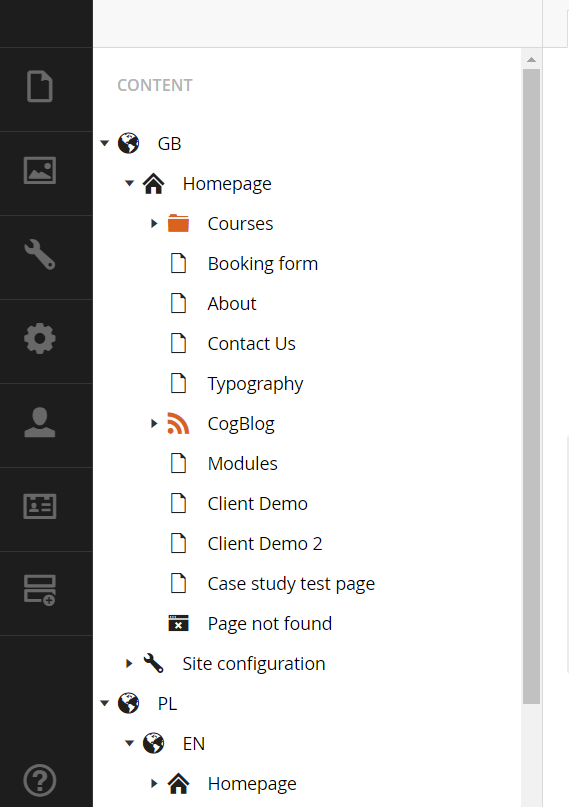 Image 1. Umbraco CMS backoffice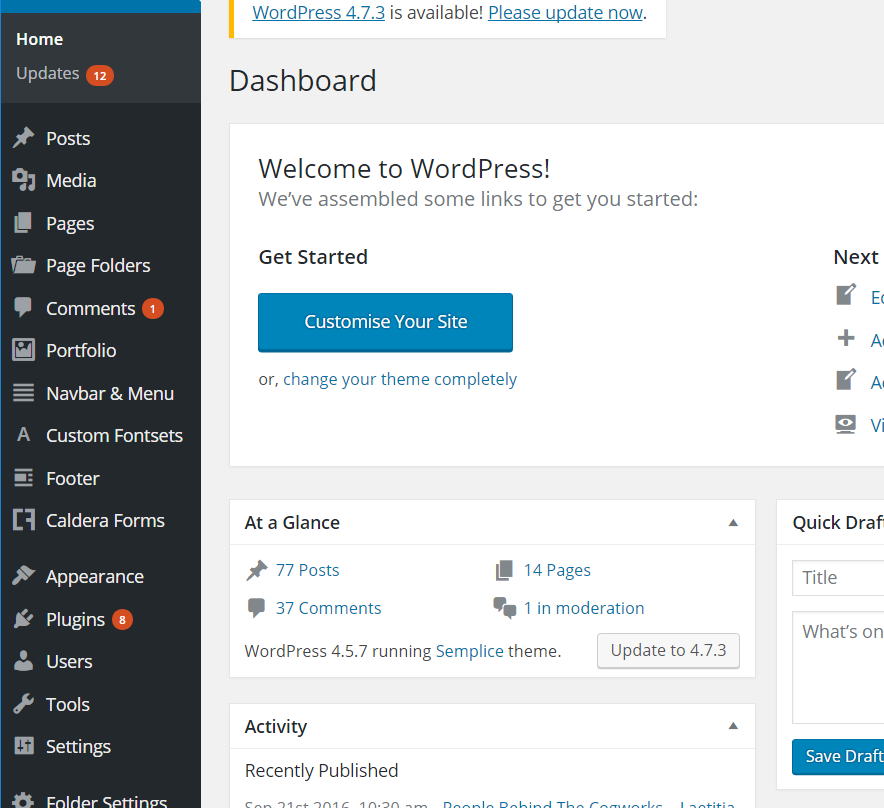 Image 2. Wordpress backoffice
The sky's the limit when it comes to customising a site with Umbraco. Unlike other CMS', there's no need to buy plugins. Umbraco is open source and its large and friendly community has created many free packages to help with different customisation needs. We have even just released our Find & Replace package which will be especially helpful for content editors like me!
Umbraco is extremely easy to use from an editor's point of view. Anyone can start editing content using the CMS without prior experience. The community has even produced this detailed user manual for editors using Umbraco 7 (the latest version).
Creating your first pages in Umbraco
After we have logged into the new Umbraco backoffice, we can see the content section of the CMS. We can then start building the site by creating different pages in the tree. We need to select a parent page for our new page, this can be for example, the homepage. Then, we need to decide what type of pages we want to create under the homepage. In the GIF below, we can see that Umbraco offers an easy interface to manage even multi-lingual sites.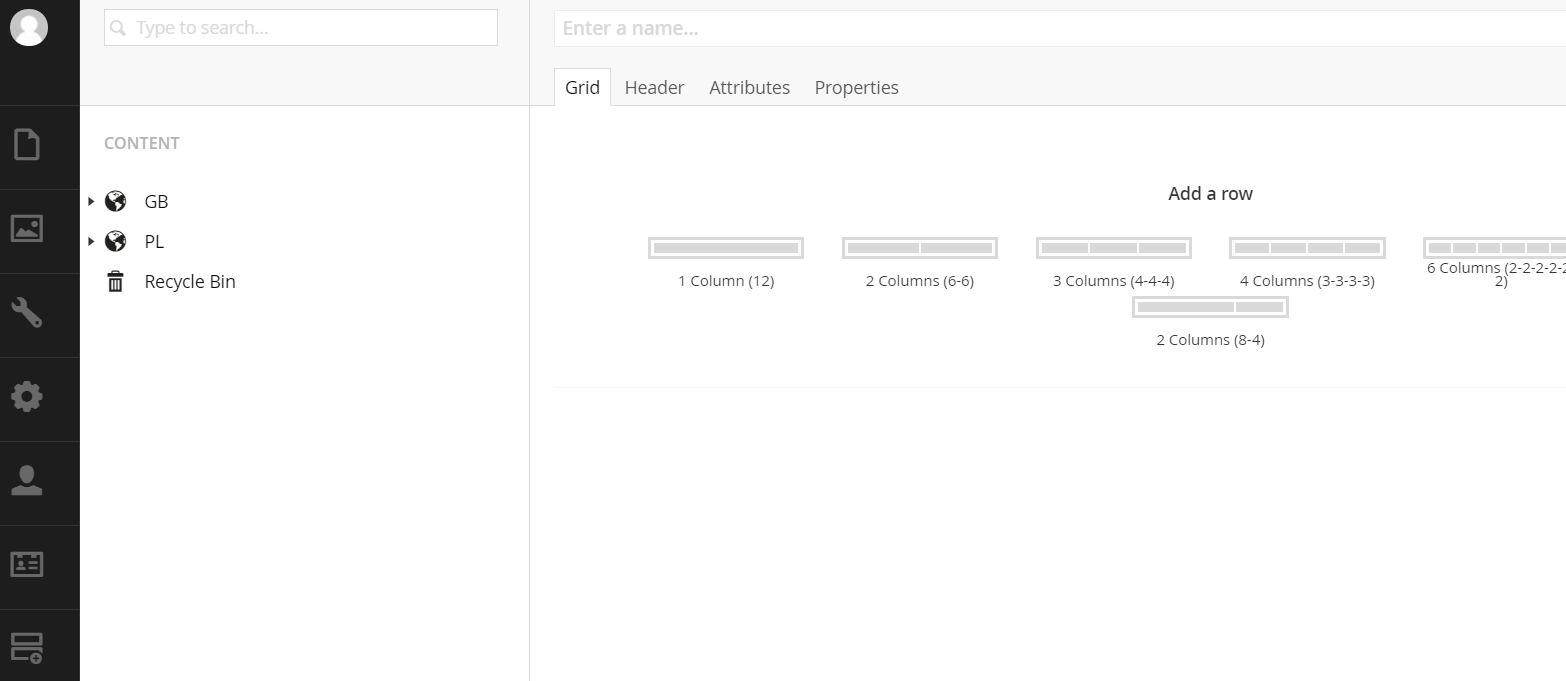 Multilingual 'Dictionary Editor'
Working across multilingual sites is possible with Umbraco thanks to a very useful and easy-to-use function called the "Dictionary Editor". It's great because we can input key phrases or small bit of texts into as many languages as we need, all in one place. It reduces the need for repetitive typing, meaning it is very time efficient and also helps ensure consistency across pages.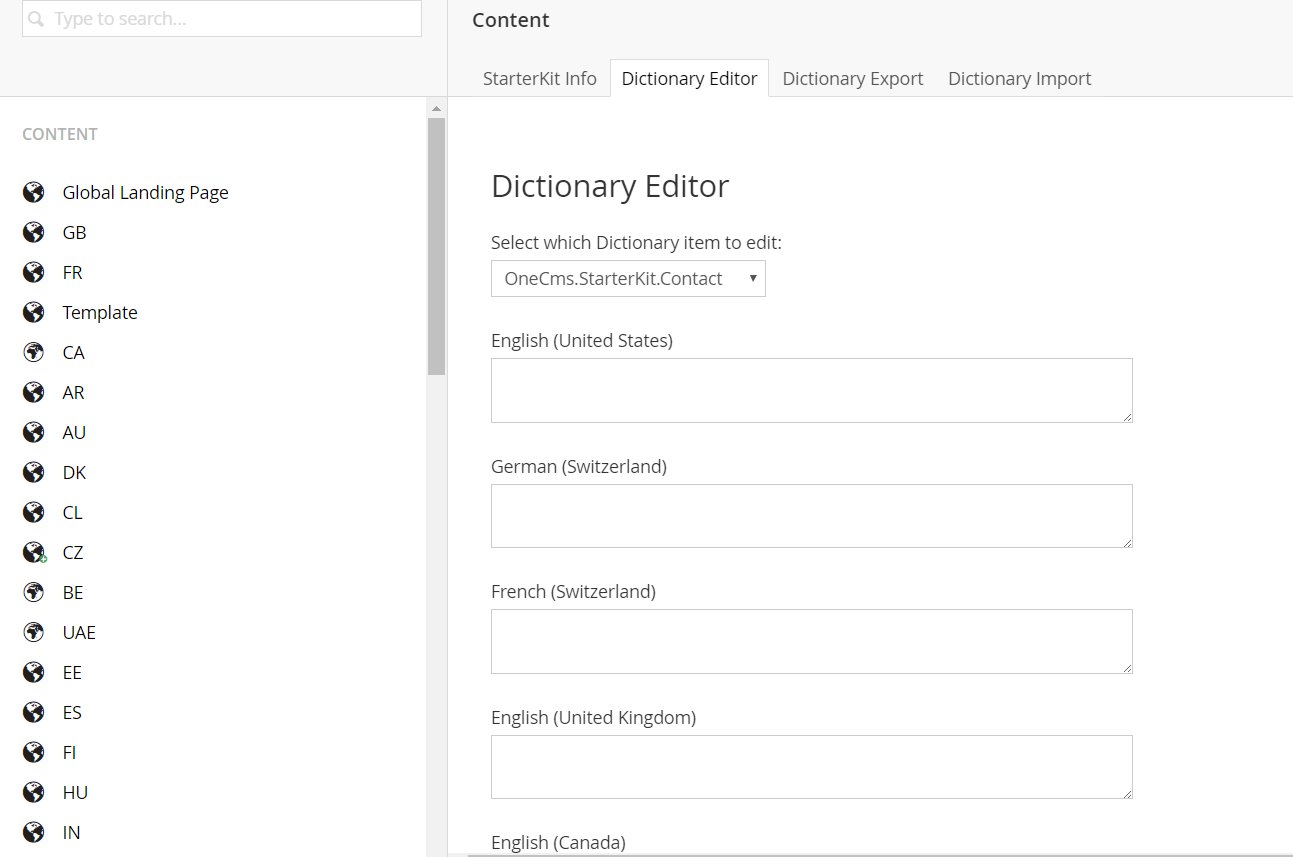 Image 3. Dictionary Editor
Uploading your content using the grid
Once we have created a page, in this case, we are using a very basic 'Text Page' page type, we can work on adding in the content. The Umbraco content grid allows us to easily add rows and columns to manage text, images, and media files. We can also apply CSS classes to individual modules to further personalise the look and feel of the page. The grid is infinitely configurable as well to allow the addition of other custom content types you may need.
To incorporate images on a page, the images must first be uploaded into the Umbraco media library. The media library allows us to order the media content into folders and subfolders, to keep all content organised and in one place. The ability to upload to the media library from the content section of Umbraco is a huge time saver for editors.
Once we have created a few pages, Umbraco enables us, in a very easy way, to manage or reorder them. We can easily sort the order of the pages, move them to where we want, or delete as necessary.
And if we get lost and want to find and edit an existing page, we can use the search bar and enter the search term. Umbraco will search for pages containing the term anywhere.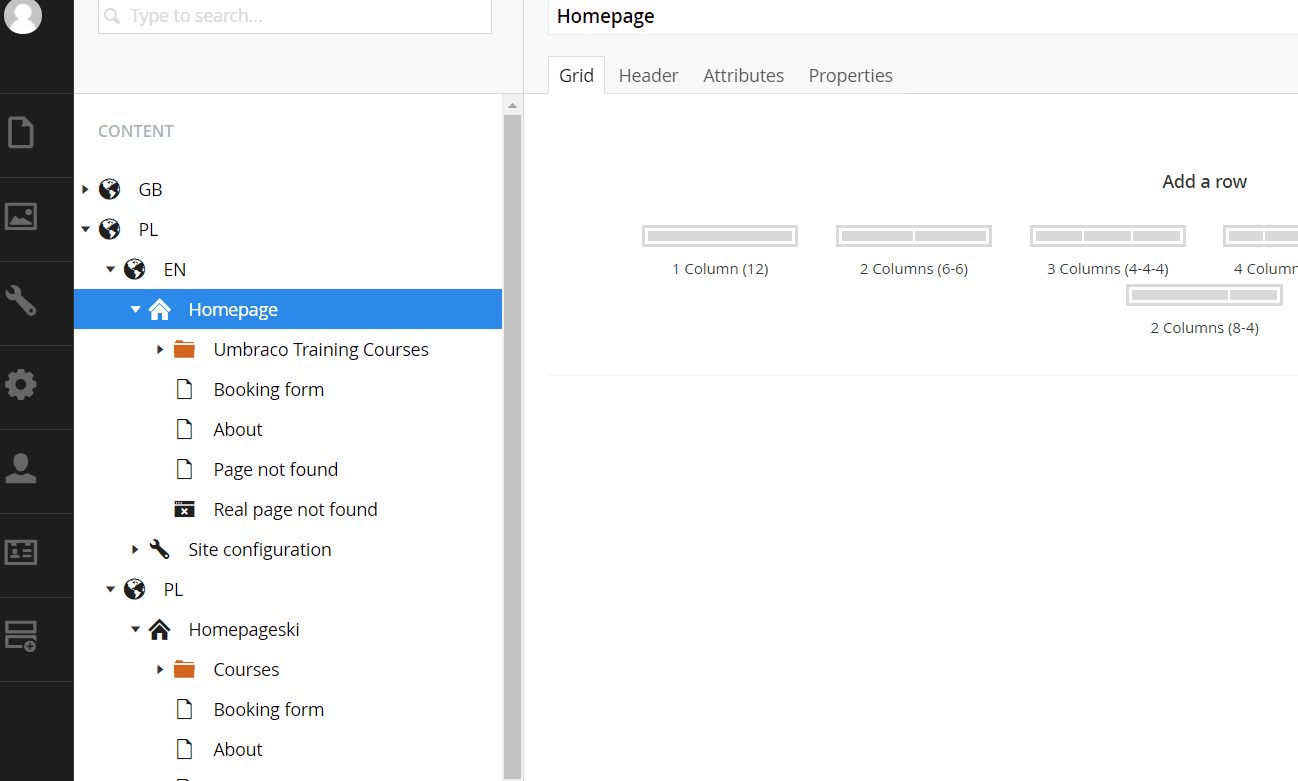 As a daily user, I really enjoyed working with Umbraco and hope that I have shown you, how you too can easily populate your own pages. For complex sites with a lot of content and a number of content editors constantly updating the pages, Umbraco is a great choice and one we think you should consider.
Of course, there are a whole host of other features available in Umbraco, so if you'd like to find out more then please contact us and we'd be more than happy to give you a demo.