Contribution is king. 
If you've come across our blog before, you may have already learned what it means for us to be an Umbraco Gold Partner. For those of you who have just joined; being a Gold Partner means a lot. In a nutshell, our team is dedicated to contributing to the growth of the open source project by building the best solutions for our clients and absorbing knowledge from the pro-active community that surrounds the Umbraco CMS. You can read the full post about our Gold Partner status here. 
In this post, we'd like to talk a little about why we contribute to Umbraco and other open source projects. (Plus, what we've been up to lately).
Why do we contribute to the Umbraco Community? 
We've been contributing to Umbraco for as long as we can remember through technical contributions such as packages and social events like the Umbraco UK Festival (the largest known community-run Umbraco festival (ever). 

The benefits of contribution extend further than just improving specific features of the CMS platform that we have specialised in for so long. When we contribute we often connect with the community and our clients as much as we can (whether that be online or at a meetup with a beer in hand). 
Being part of the Umbraco community supports our team in their professional development and in turn helps our clients, as our contributions are inspired by real-life projects.
Day-to-day challenges are giving life to the creation of packages that solve particular problems for our clients. The magic of an open source project like Umbraco means we're encouraged to release these solutions as packages that can be utilised by other organisations that may be facing similar challenges. For us, being part of an active community gives us the tools to create intelligent, engaging experiences and our know-how gives us the edge to find innovative solutions...no matter what the project. 
(It is, of course, a huge plus that Umbraco just happens to be one of the friendliest, most supportive communities going.) For more on our journey with our favourite open source project, check out Cogworks CEO, Adam Shallcross's article, 'An Umbraco Tale'.
The bigger community; open source.  
Outside of Umbraco we can be found getting stuck into other open source projects. For the team this is a motivation to get creative, share and promote existing packages and to join in discussions that will help to improve existing solutions that are already out there on Umbraco and Microsoft Azure.
How does our team contribute to open source?
Many of our contributions to open source are the result of a "how can we make this better" chat between Cogworks developers, content editors, project managers and designers! It goes without saying that a project comes with challenges, but our shared desire to simplify a complex idea (first for a specific client) and then with the rest of the open source community, has become an intrinsic way of working.
- Raising issues - If we've got the skillset to do so, we will help maintainers and software developers to fix issues in the next releases.

- User Experience - If we see something in the backoffice that needs improving to make an editors life easier, then we help wireframe or map out a solution.
- Documentation - There is always a lack of documentation in every project. Where we can, we help keep information up-to-date and easy to understand.
- Development -  Sometimes when we know how to fix things, we can contribute and submit code pull requests to fix the issues directly.
- Translations - In multi-region and multilingual ecosystems, having the ability to work with tools in the right language UI is essential. Where we can our team help out with translations. For example, from English to Polish. 
How can our open source contributions help projects?

The Cogworks team has been working on a collection of public contributions for use with the Umbraco CMS and Microsoft Azure. Among the lineup is:

- The 'Umbraco Perf Playground' - A demo playground to help understand modern web performance testing on Umbraco to maximise website performance through automated processes and more!

- 'Find and Replace' - Built to save content-editors' headaches when using Umbraco. This package is a simple and intuitive package which allows editors to find and replace content in Umbraco.

- 'The Cogworks Azure Search' - We use Azure and Azure Search on many of our client projects. This addition to our package family will help to have a single convention for "talking" with the Search service and makes setting up projects much more efficient. 
Latest contribution events!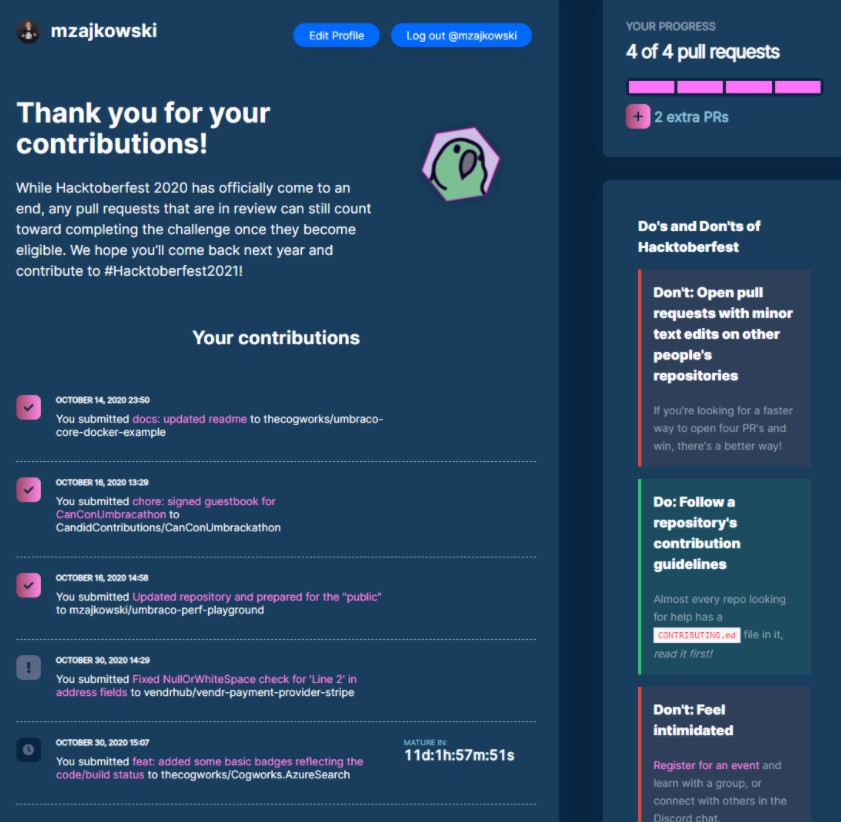 Last month was Hacktoberfest, a month-long celebration of open source software. This celebration encourages contributions like the ones listed above for anyone in the global open source community.  
Celebrations like this let us show off our best "stuff" and allow developers of all skillsets to connect with the developer community and contribute to the overall quality of open source software. 
We tend to take part in this event on a regular basis for additional motivation to share our day-to-day work in a competitive setting. Of course, it's just an added bonus that successful submissions can be rewarded with a free T-shirt, or with a tree being planted on your behalf!
Thanks for reading.
We hope you found this useful. We're always looking into new ways to give back to Umbraco and beyond so we can power-up our client projects and professional development (and occasionally win free merchandise).