Umbraco Support from experts. 
Introducing our Umbraco Support Plans; cost-effective Umbraco support plans that work around the clock to keep your site safe, up-to-date and performing as it should.
Do I need an Umbraco website support plan? 
Some organisations organise in-house support and maintenance to keep it ticking along without the help of a dedicated Umbraco support plan and can manage to keep their website secure, up-to-date, and ahead of the game in a competitive landscape.

So, why do organisations sign up to an Umbraco support plan? 
Our Umbraco website support plans ultimately free up your time. Our plans watch your website around the clock and are designed in line with the size of your business (and with your users in mind) so you can focus on other things, like ROI-specific activities, without concern for website security, performance and updates.   

Five ways our Umbraco support plans can help you stand out. 
As a leading Umbraco Gold Partner, we've been supporting Umbraco clients for some time. We have bundled our offerings into three neat packages and what better way to celebrate than with a list of five features we think are most valuable when looking for website support:

1. Expert Consultancy.
Reporting and intelligent automation designed by experts is enough to keep your site performing as it should be with no problems. However, if you're looking for a plan to help you stand out, it can be beneficial to pick one with some level of consultancy included. Our Support Plus and Enterprise packages ensure the advanced report's results are explained clearly with proactive advice that you can use to make beneficial changes to your website in areas such as performance, security, UI and UX. 

2. Security Monitoring to bulletproof your site.
'Hackers attack every 39 seconds', according to a study conducted by Maryland University. A quick scour of the latest statistics can sometimes be enough to make anyone want to resort to print-media, but where there is an internet connection, there is vulnerability. 
A website support plan should have a team of dedicated professionals running round-the-clock security checks that will prompt the implementation of any latest security releases when required. 

Cogworks Essential, Support Plus and Enterprise plans include security measures that help to ensure your website meets standards set by organisations like the Open Web Application Security Project (OWASP), for extra peace of mind. Get in touch to find out which level is right for your business.

3. Protect your content with Daily Backups.
You'll find this included in all of our plans. Protecting your content is essential to ensure your content is secured with a reliable recovery plan that can safely and securely store your assets on the cloud for safe restoration in the unlikely event of an emergency.

4. We're always watching with Uptime & Application Monitoring. 
Your website should be securing a high, if not perfect, level of site uptime, made more secure by the implementations of things like Daily Backups as mentioned above. However, there are occasions where things can go wrong. 
All of our Umbraco Support Plans include Uptime & Application Monitoring so that any downtime or outages are resolved before they are even noticed. Constant attention to this aspect of your website will minimise any disruption to the intended actions you want your users to take (and it also means their first visit to your site won't be their last!).

5. Human contact.
Our Essential plan offers support through an online support portal. While this will do for general enquiries, it may be beneficial to ensure you have an experienced human on your side. The Cogworks Support Plus and Enterprise plans offer an additional direct line of communication with one of our dedicated account managers will help with any emergencies (or seriously pressing questions) as they occur.

Find out which plan is right for you.
If you have an Umbraco website and want to chat about how a plan can transform your digital presence, why not send us a message?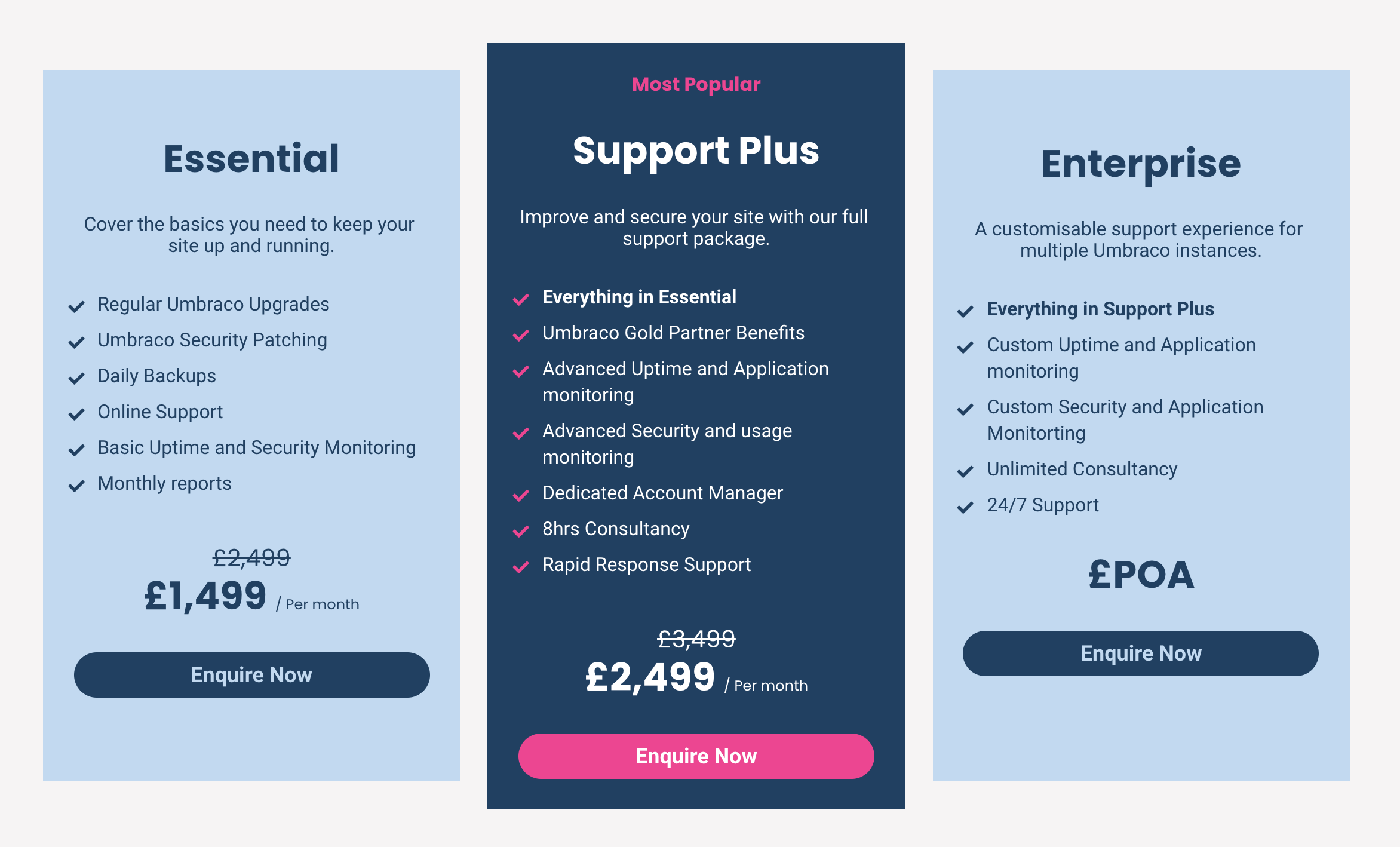 Cogworks.